# # # # # # # # # #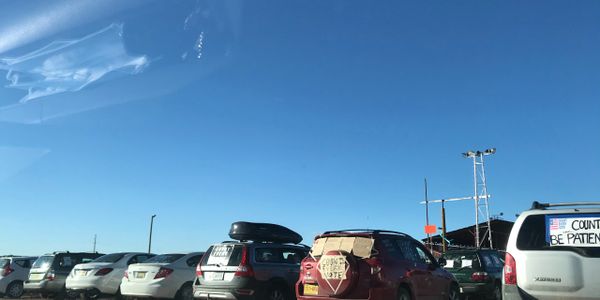 "Car caravan in Santa Fe calls on leaders to "count every vote"
by Kaylyn Noorwood
KOAT Action News 7
SANTA FE, N.M. —
Some concerned New Mexicans traveled across Santa Fe to send a message to our leaders, as the focus is very much on securing votes with a tight presidential race.
On the day after a big election, the people of Santa Fe saw a caravan of cars driving around town, near the capitol, with a clear message: count every vote.
"That represents our democracy, that makes for a fair election," said Debbie Harmon, a participant.
"If it's Republicans, or Independents, or Democrats it doesn't matter," said Donna Thiersche, organizer. "Count everybody's vote is what we're concerned about."
Before they hit the streets, drivers brought their decorated cars the Santa Fe's rodeo grounds and listened to a couple of speakers: a minister, spokesperson from the ACLU, and the group Indivisible. Those who took part in the peaceful demonstration said they're defending our country's democracy.
"We're a good state," said Thiersche. "We've done the counting. I'm not worried about that. It's everywhere else."
"Unfortunately right now we have forces in this country that are trying to prevent people from voting and prevent some people's votes from being counted," said John House, participant.
House believes there's been a spread of disinformation, attempts to delegitimize elections, and repress the vote.
"It's undemocratic," said House. "It's un-American. It's people trying to keep power. No matter who wins it's the process that keeps this country a democracy."
Masks were required and non one was allowed to promote a particular candidate. Organizers said this one of several hundred nonpartisan events happening this day after Election Day. Demonstrators traveled down Cerrillos, through the Santa Fe plaza, and ended at the roundhouse.
# # # # # # # # # #
 On Nov. 3 or even for days and weeks after, the people of this country will likely still not know the results of the 2020 presidential election. Hopefully, no matter who wins, the loser will gallantly concede and the transition of power will be normal and peaceful. Unfortunately, however, there have been many indications from the President of the United States and members of his administration that they might not accept the results of the election if Democratic candidate Joe Biden is the winner.
During a July 19, 2020, interview, when asked if he would concede the results if he lost to Biden, the President replied, "I have to see. I'm not just going to just say yes. I'm not going to say no…." Later in the same interview, he suggested he might reject the results if he loses because he believes that vote-by-mail would taint the election. Attorney General William Barr, without citing evidence, later echoed that theme, questioning the integrity of mail-in ballots. That mantra continues to be repeated despite the statement earlier this month by Christopher Krebs, the head of the President's own Cybersecurity and Infrastructure Security Agency that he "…has confidence that your vote is secure, that state and local election officials across this country are working day in and day out, 24/7, that the 2020 election is as secure as possible."
In addition, the President's recently appointed U.S. Postmaster General ordered critical changes to the postal service, ending overtime pay and removing nearly 700 mail-sorting machines and large numbers of external mailboxes. When called before Congress on August 24, 2020, to explain his actions, Postmaster General Louis Dejoy vowed to reverse such actions and said that making sure mailed ballots are delivered would be his top priority. Yet, the very next day he ordered postal police officers to stop investigating theft that occurs away from postal property. In addition, the President has openly called for his supporters to go to polling places to engage in voter intimidation.
All this leads to the probability that this election will not just be contested in the courts. The signs lead to possible interference with the counting of ballots and other, even more egregious acts of interference up such as Republican legislatures in states won by Biden sending to the Electoral College a slate of electors to vote for Trump. Choose Democracy (choosedemocracy.us) assesses the potentiality of a "coup-like" event arising out of the 2020 election at 98 percent.
If an election-based power grab does not come to pass, the system will have worked and we can go back to our daily lives. If not, it will be up to us to play our part in protecting the legitimate election results and seeing that a proper transition of power occurs. What can people do in the event of a political power grab? What we cannot do is sit by and watch our democracy stolen from us. We must act. We must exercise our right to peaceful civil disobedience to make it clear that the American people will not accept a stolen election.
What we cannot do is to passively sit by and watch our democracy stolen from us. We must act. We must exercise our right to peaceful civil disobedience to make it clear that the American people will not accept a stolen election.
Fortunately, a number of nonprofit institutions and groups have anticipated this eventuality and have researched, planned and prepared for it. They offer a variety of information and resources to help people across the country effectively and peacefully organize and demonstrate their will. These organizations include Protect the Results, protecttheresults.com, and its numerous partners, including Indivisible, indivisible.org; the Count the Vote initiative of Smart Elections, smartelections.us/countthevote; Hold the Line, holdthelineguide.com; Choose Democracy, https://choosedemocracy.us;  and RepresentUs, represent.us.
The Transition Integrity Project and Hold the Line have produced very thoughtful analyses and planning documents which can be found online at
https://assets.documentcloud.org/documents/7013152/Preventing-a-Disrupted-Presidential-Election-and.pdf and https://holdthelineguide.com/, respectively. Protect the Results offers a "find an event near you" resource that allows you to enter your zip code and sign up for events near you. Smart Elections' Count the Vote initiative, Choose Democracy also provides a series of valuable recorded training sessions. RepresentUs offers six steps to save the vote at https://represent.us/6-steps-to-save-the-vote/. Please use these valuable organizational and informational resource tools to take part in an organized, peaceful but firm stand in support of our democracy.
Here in New Mexico, RepresentUs New Mexico, Indivisible Santa Fe and Count the Vote-NM, are actively working with these national organizations and will be coordinating local events and actions. Indivisible Santa Fe has organized a car rally (to honor state and local restrictions) on November 4 in Santa Fe (more details to follow). For questions or to sign up to participate send an email to .
John House is President of RepresentUs New Mexico.